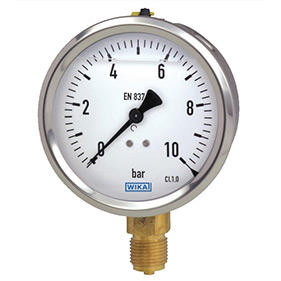 Bourdon Tube Pressure Gauge
We are committed to offering our customers a full range of 213.53.63 Bourdon Tube Pressure Gauge. Our customers can get these products from us in various specifications. 213.53.63 Bourdon Tube Pressure Gauge Dealer and Distributor in Chennai.
213.53.63 Bourdon Tube Pressure Gauge Dealer in Chennai. This Bourdon tube pressure check is shock and vibration safe, has a particularly tough plan, and is accessible with scale scopes of 0 to 1,000 bar. This tension check can be utilized with vaporous and fluid media that don't give block to the strain framework or assault copper combination parts. The fluid filled model 213.53 Bourdon tube pressure measure is developed with a case from tempered steel and wetted parts from copper amalgam. The fluid filled measure 213.53 meets the prerequisites of the worldwide business standard EN 837-1 for Bourdon tube pressure checks. Because of the fluid filling for the situation, the tension component and development are proficiently damped. Consequently, these instruments are especially fit to estimating focuses with high powerful loads, for example, quick burden cycles or vibrations. The instances of the fluid filled measure 213.53 are accessible in ostensible sizes of 50, 63 and 100 mm and satisfy IP65 entrance assurance. With an exactness of up to class 1.0, this strain check is reasonable for a wide scope of utilizations in industry. For mounting in charge boards, the tension checks with a back mount process association can be fitted with a mounting rib or with a three-sided bezel and mounting section.
| | |
| --- | --- |
| Size | Medium, Large & Extra Large |
| Color | Grey, Blue & Yellow |
| Length | 250 cm |
| Warranty | 1 Months |