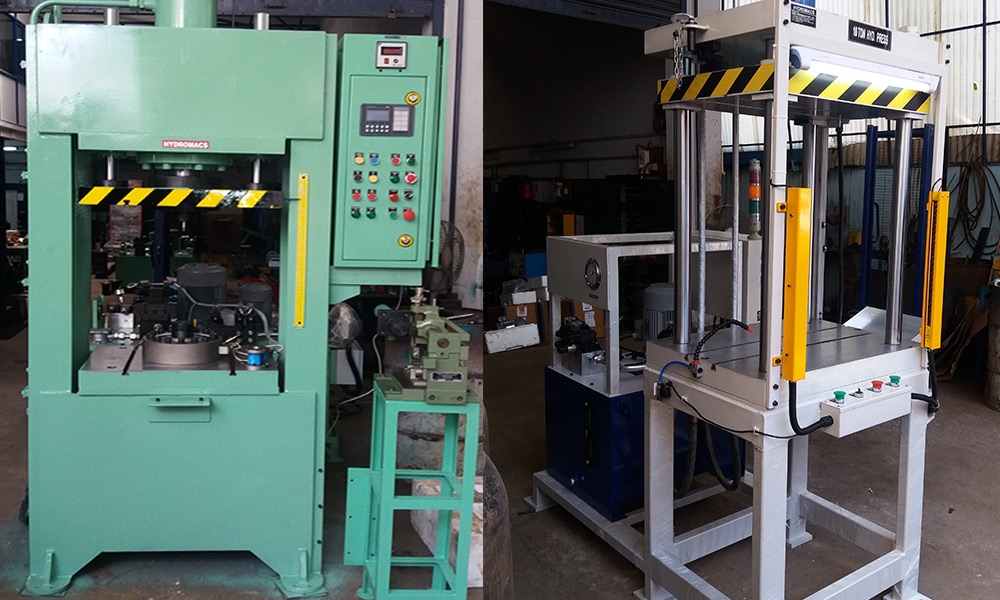 Hydraulic Press
Sam Hydromacs Manufacture wide range of Hydraulic Presses as per Customer's specification & requirements. We have continued to grow from the day our Company was founded. This Success is based on our customer's satisfaction. It is our constant endeavour to confirm & extend this Confidence is us. Major Components of a 'H' type Press Consist of the bed, side Housings (uprights), crown & slide. The bed often has a removable bolster & sometimes contains one or more die cushions for deep-drawing operation. Side Housing are either solid welded members or fabricated steel uprights; or the whole structure is joined together with steel tie rods.
We offer C-frame type presses that are designed to perform a variety of operations – where high force concentration is required in a relativity small area. C-Frame type presses are available in open back inclinable (OBI) and open-back stationery (OBS) designs. These presses have ample throat and open sides, which provide easy accesses to the die form three sides and permit loading/unloading of wide or irregular-shaped workpieces. Besides, we offer C-Frame type presses in a variety of designs to suit varied applications. These presses can also be equipped with removable bolsters, die cushion, automatic feeding and material handling systems for high-speed production applications.
Hydraulics Pillars Type Presses are designed to provide maximum flexibility for different blanking, broaching and other applications. The change in the speed can be preset to take place at any point of the stroke with the help of limit switches / proximity switches / liner encoders / potentiometer. Maximum frame rigidity is achieved through computer aided frame design and finite element analysis. These presses can be custom designed to suit specific requirements of the customers.