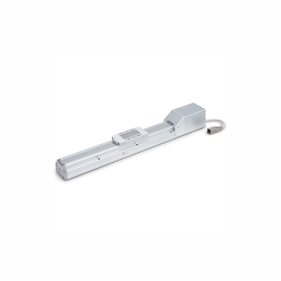 LEFS Electric Actuator Slide Type
LEFS Electric Actuator Slide Type Dealers and Distributors in Chennai. We are occupied with offering a far reaching scope of 11-LEFS to customers. Our clients can profit these items in various details from us.
11-LEFS Electric Actuator Slide Type Suppliers in Chennai. 11-LEFS, Electric Actuator, Slider Type, Ball Screw Drive, AC Servo Motor, Clean Room The LEF series slider type electric actuator includes a position of safety tallness of 46mm (LEF16). The actuator's principle body can be mounted without eliminating any outside parts, like the cover, making establishment simple. The standard prepared seal band covers the aide, ball screw and belt, keeping oil and outer unfamiliar matter from sprinkling and entering the LEF. There are 2 sorts of drivers accessible, ball screw or crankshaft belt. Accessible engines incorporate servo engine ball screw drive or step engine belt drive. At the point when the LEF is requested with the regulator, introductory information of the actuator is preset in the regulator permitting fire up in a brief time frame with the "simple mode".
Same features and performance as standard LEFS AC Servo, plus
ISO Class 4 / US FED STD 209E Class 10
Built-in vacuum piping with exhaust port for removing generated particles
| | |
| --- | --- |
| Size | Medium, Large & Extra Large |
| Color | Grey, Blue & Yellow |
| Length | 250 cm |
| Warranty | 1 Months |