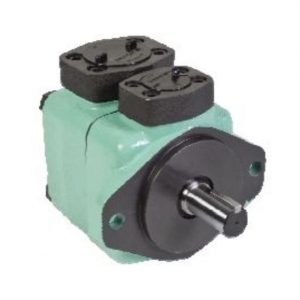 PV2R Series Single Vane Pump
PV2R Series Single Vane Pumps Dealer and Distributor in Chennai - These siphons are of high strain and superior execution, which have been grown particularly for low commotion activity. To conform to an assortment of uses including infusion forming machines, PV2R series single siphons give the result stream of such a wide reach as from 5.8 to 237 cm3/fire up. The intergral driving pieces of the siphons are joined into a pack structure and accessible for supply as a cartridge unit. Subsequently, the substitution of the driving parts should be possible without any problem.
Fixed Displacement Vane Pumps vendor in chennai - PV2R Single Vane Pumps. For different items visit Products Yuken: Hydraulic subject matter expert and its items are perceived as an industry driving brand, used in different customary and expert applications all over the planet. We supply standard, off-the-rack items yet at Yuken, we will forever exceed everyone's expectations to comprehend your requirements and give Hydraulic arrangements, which will permit you to address the inexorably intense difficulties that we as a whole face. Yuken: Hydraulic expert likewise plan and assemble new gadgets for clients on a customized premise. Our Hydraulic items are utilized by unique gear producers working in a different assortment of areas including transporting, development, subsea tasks, chocolate-creators and contact focal point fabricating hardware. The requesting prerequisites of those machine, framework manufacturers and pressure driven power pack, who need further developed usefulness, and execution to acquire specialized edges over their opposition, implies that we have gained notoriety for quality and state of the art advancement and configuration, fostering a scope of items which will improve any framework they are utilized in. As enterprises develop, there are in every case intriguing specialized difficulties to meet and Yuken's supportive of dynamic methodology guarantees that we will stay at the bleeding edge of being an arrangements supplier. Yuken: Hydraulic Specialist progressive developments include: Creating corresponding valve innovation Our "K" series low flood loops On Board Electronic Proportional control for siphons and valves Electronic controlled units for energy saving. Request Now PV2R Series Single Vane Pumps Dealer and Distributor in Chennai.
| | |
| --- | --- |
| Size | Medium, Large & Extra Large |
| Color | Grey, Blue & Yellow |
| Length | 250 cm |
| Warranty | 1 Months |