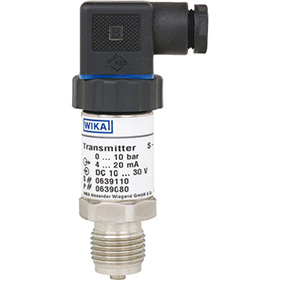 S-10 Pressure Transmitters/Transducer
S-10 Pressure Transmitters/Transducer Dealer and Distributor in Chennai. WIKA S-10 pressure transmitters are accuracy designed to fit most modern strain estimation applications. The minimal, rough plan makes these instruments appropriate for applications including hydrodynamics and pneumatics, vacuum, test gear, fluid level estimation, press control, blower control, siphon security and various other handling and control tasks.
S-10 Pressure Transmitters/Transducer Dealer in Chennai. A wide scope of electrical association and interaction association choices are accessible to meet practically any necessity. Rough development The S-10 elements an all-welded tempered steel estimating cell for further developed media similarity. There are no inside delicate fixing materials that might respond with the media or break down after some time. The smaller case is likewise made of tempered steel and is accessible with natural insurance evaluations up to NEMA 6P/IP 68. Each instrument goes through broad quality control testing and adjustment to accomplish a precision of < 0.25% full scale. The printed circuit sheets use best in class surface mount innovation and are pruned in silicone gel for insurance against mechanical shock, vibration and dampness. Each is separately temperature remunerated to guarantee exactness and long haul steadiness in any event, when presented to extreme encompassing temperature varieties.
| Applications |
Hydraulics and pneumatics
Test equipment
Pump and compressor control
Liquid level measurement
| | |
| --- | --- |
| Size | Medium, Large & Extra Large |
| Color | Grey, Blue & Yellow |
| Length | 250 cm |
| Warranty | 1 Months |