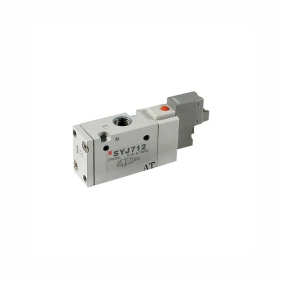 SYJ Series Direction Control Valve
We are occupied with offering an extensive scope of SYJ to customers. Our clients can benefit these items in various details from us. SYJ300/500/700 3 Port Solenoid Valve Dealers and Distributor in Chennai.
SYJ300/500/700 3 Port Solenoid Valve Supplier in Chennai The SYJ Valve is an imaginative blend of room productivity and execution prevalence which offers genuine benefit over the plan arrangement. Regardless of whether planned in a complex or utilized as a solitary valve, this little profile expands plan adaptability and limits space necessities. The SYJ valve uses a low power (0.5 watts standard) pilot solenoid plan, which significantly diminishes warm hotness age. This further develops execution, diminishes working expenses, and considers direct control by PLC yield transfers. All electrical associations for SYJ Valves are accessible with lights and flood concealment. SYJ series valves can be arranged on base mounted manifolds, or independently on sub-plates, making an assortment of answers for meet your broadest designing necessities.
| | |
| --- | --- |
| Size | Medium, Large & Extra Large |
| Color | Grey, Blue & Yellow |
| Length | 250 cm |
| Warranty | 1 Months |