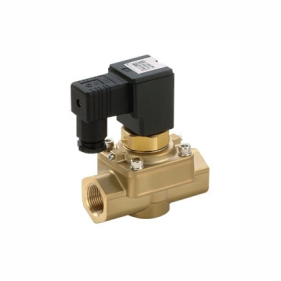 VCH/VCHC 2/3 Port Solenoid Valve & Check Valve
We are occupied with offering an extensive scope of VCH/VCHC to customers. Our clients can benefit these items in various details from us. 5.0 Mpa Pilot Operated 2/3 Port Solenoid Valve and Check Valve VCH/VCHC Series Dealer and Distributor in Chennai.
VCHC40, 5.0 MPa Check Valve Dealer in Chennai. Process Industry and PET machine manufacturer's solicitations for both 2 and 3 port, pilot worked, solenoid valves, with high tension execution are presently replied with the send off of SMC's most recent Series VCH range. Intended for use with air or inactive gas, these new valves can work up to a greatest strain of 5.0 MPa consequently significantly surpassing SMC's current VXH high tension series. With enormous stream entries, and ISO1179-1 adjusting port string sizes of G1/2 to G1, high stream rates are guaranteed and because of a decrease in the general volume of the pilot chamber their responsiveness can now just be estimated in milliseconds. Furthermore, the VCH range offers walled in area insurance identical to IP65 and a DIN type electrical connector as standard and because of its extraordinary crash less armature development, with elastic cradles and urethane stomach, early signs have affirmed that the valves activity life time will surpass 10 million cycles. At present the VCH Series is accessible in four different valve arrangements; 2 port valve regularly shut - VCH41, 2 port valve ordinarily open - VCH 42, our 3 port choice - VCH410, in addition to a really take a look at valve - VCHC40. 5.0 Mpa Pilot Operated 2/3 Port Solenoid Valve and Check Valve VCH/VCHC Series Supplier in Chennai.
Service life: 10 million times
Uses the polyurethane elastomer poppet for valve parts.
Improves durability at high pressure.
| | |
| --- | --- |
| Size | Medium, Large & Extra Large |
| Color | Grey, Blue & Yellow |
| Length | 250 cm |
| Warranty | 1 Months |