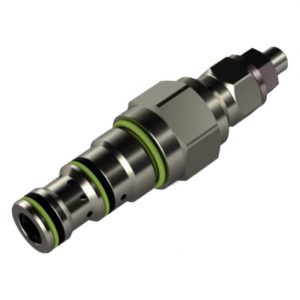 YC Series Load Holding Cartridge Valve
YC Series Load Holding Cartridge Valves Dealer and Distributor in Chennai. We are occupied with offering a thorough scope of Products to the customers. Our clients can benefit these items in various details from us.
YC Series Load Holding Cartridge Valve Dealers in Chennai Load holding cartridge valves with inward and outer pilot are utilized to control overwhelming burden, The check valve permits free stream from the directional valve (port 2) to the heap (port 1) while an immediate acting, pilot-helped alleviation valve controls stream from port 1 to port 2. Pilot help at port 3 brings down the powerful setting of the alleviation valve at still up in the air by the pilot proportion. Highlights : * 3:1 pilot proportion with movable setting. * Greatest working strain 350 bar. * Least setting pressure 35 bar. * Greatest stream rate 60 lpm. * Greatest valve spillage at reseat : 5 drops/minute.
| | |
| --- | --- |
| Size | Medium, Large & Extra Large |
| Color | Grey, Blue & Yellow |
| Length | 250 cm |
| Warranty | 1 Months |